Engineers, Architects and Landscape Architects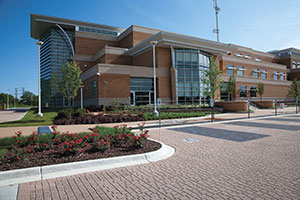 Unsurpassed technical and design expertise, proven product performance, and a commitment to the highest level of quality production are hallmarks of UNI® Manufacturers. By using the latest technology, we can offer designers, architects, engineers, and landscape architects more styles, colors, and finishes of concrete pavers, as well as other specialty concrete hardscape products such as grid pavers, segmental retaining wall systems, edging, patio products, and paving slabs.

UNI Pavers are manufactured across North America by licensed UNI® Manufacturers, who represent some of the oldest and largest paver producers in the country. Some of our manufacturers have been in the concrete product business for over 90 years, a testament to quality products and service. Click here to locate the manufacturer for your area.
DESIGN, CONSTRUCTION AND RESEARCH
We strive to provide the tools, references, design guides, and professional assistance you need to design interlocking concrete pavements for a wide variety of project applications, including permeable interlocking concrete pavements.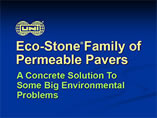 Our Design/Installation section features software, presentations and videos, design guides, manuals, and product literature, articles and case studies, technical and specification guidance, installation and cross-section details and more. Or click on the Quick Links below for fast access to items of interest. Our Resources section offers the latest industry news, as well as information and references on stormwater, low impact development, sustainable development, and environmental and stormwater regulations and objectives at the federal, state and municipal level. From the EPA to Green Infrastructure Rating Systems to Low Impact Development, we've got it covered.
NEW! Low Impact Development and Stormwater Calculators.
Green Infrastructure and Building Rating Systems
State and Municipal Green Infrastructure/LID/Stormwater Guidance

Visit our Downloads page for a complete list of all UNI® information available for download in one convenient location.
FEEDBACK

We welcome any comments, suggestions, questions, or ideas from professionals in any aspect of the design industry. UNI-GROUP U.S.A. producers are at the forefront of new product design and are dedicated to providing you with high-quality concrete hardscape products to meet your design requirements. Do you have any projects that have used our pavers and would like some exposure on our website? Please send your project information and photos to us so that we may add them to our site. You may send any comments via e-mail at any time.
SEMINARS, CONFERENCES AND EVENTS

UNI-GROUP U.S.A. and UNI® Manufacturers attend various construction and design industry shows and expos around the U.S. on a national or local level. Our manufacturers also conduct seminars on interlocking concrete paving and permeable paving for engineers, architects, contractors, and landscape architects, as well as municipalities and universities. Professional Development Hours or CEU units may be available at certain locations. In addition, we can let you know if industry experts will be speaking at conferences. Visit our Expos/Seminars page for more information.

Have a question you can't find an answer to on our website? Please give us a call at 1-800-872-1864 or send us an e-mail. We'll do our best to answer any questions you may have.
Quick Links
The design, engineering and installation information provided on this website is intended to provide guidance and recommendations for design professionals. Design and construction will vary with local regulations, specifications, environmental conditions, materials and established construction methods for an area. It is not intended to replace the judgement or expertise of professionals engineers, architects or landscape architects, who should be consulted in the design and construction of traditional or permeable interlocking concrete pavements.
Tags: Interlocking concrete pavers, heavy-duty pavers, industrial pavements, municipal pavements, commercial pavements, residential pavements, UNI Pavers, permeable pavers, PICP, engineers, architects, landscape architects