Installation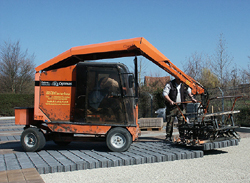 UNI-GROUP U.S.A. offers extensive design and installation information for both traditional and permeable interlocking concrete pavements (PICPs), including design manuals, specifications, case studies and design software. This information is geared to design professionals and contractors. For information geared towards the homeowner and do-it-yourself projects, please contact your local UNI® Manufacturer.

For your convenience we've included Quick Links below for items of interest pertaining to design and construction. Permeable interlocking concrete paver design and construction differs from that of traditional pavers, so the information is often presented in two formats for your convenience.

Proper design and installation is very important to ensure a quality interlocking concrete pavement that will perform as intended, whether the project is a heavy-duty industrial shipyard or a pedestrian pathway. Traffic loading is a critical element in the design of interlocking pavements, and UNI Pavers feature interlocking shapes that enhance structural strength and stability. Interlocking concrete pavements are exceptionally durable despite their attractive appearance.

UNI Interlocking Traditional and Permeable Concrete Pavers can be installed either manually or mechanically. In mechanized paver installation, specialized paver installation equipment speeds construction time by installing approximately one square yard (one square meter) of pavers at a time in rapid succession. For an Interlocking Concrete Pavement Institute Tech Spec on Mechanical Installation visit your local UNI Manufacturer's web site or visit our Downloads page. ICPI Tech Specs are also available on Edge Restraints, Construction, Structural Design and more.

It is recommended that installation be performed by experienced interlocking concrete paver contractors that preferably are certified by the Interlocking Concrete Pavement Institute. Pavement design and installation varies with climate, available construction materials, design methods, soil conditions, and traffic loads. A qualified engineer, architect, and/or landscape architect should be consulted in concrete paver applications.

With permeable interlocking concrete pavements, you must not only design and construct for structural loads, but also for the hydraulic/hydrology component of water entering into the pavement structure. This requires the services of a professional engineer or other design professional with experience in hydrology and hydraulics.

Links to general installation guidance are provided below. For guide specification information on interlocking concrete paver installations, see the Specifications section below or visit our Downloads page for a comprehensive selection of files available for download.
Quick Links
TRADITIONAL INTERLOCKING CONCRETE PAVEMENT INSTALLATION

PERMEABLE INTERLOCKING CONCRETE PAVEMENT INSTALLATION

SPECIALIZED INTERLOCKING CONCRETE PAVEMENT INSTALLATION
Specifications
We offer a number of guide specifications for the construction of traditional and permeable interlocking concrete pavements. The most common guide specifications are provided below. For other specifications such as construction over a cement-treated base, an overlay over existing concrete or asphalt, or bitumen-set applications, you may download these files by visiting our Downloads page. If you require an editable Word Document version of these PDF specification documents for editing purposes, these are also available on our Downloads page..

PERMEABLE INTERLOCKING CONCRETE PAVEMENT SPECIFICATION

INTERLOCKING CONCRETE PAVEMENT ON AGGREGATE BASE SPECIFICATION

For additional information on design, installation, technical data, literature, cross-sections, software and more, click on the Quick Links below.

Is there something you can't find on our website or have a question regarding installation or specifications? Please e-mail us or give us a call at 1-800-872-1864 and we'll do our best to answer any questions you may have.

For structural design of interlocking concrete block pavements, UNI-GROUP U.S.A. offers Lockpave® Pro software, featuring PC-SWMM™ PP software for hydraulic design of permeable interlocking concrete pavements. Visit our Software page for more information..

If you cannot find the information you are looking for or have a question you can't find an answer to on our web site, please give us a call at 1-800-872-1864 or send us an e-mail. We'll do our best to answer any questions you may have.
The design, engineering and installation information provided on this website is intended to provide guidance and recommendations for design professionals. Design and construction will vary with local regulations, specifications, environmental conditions, materials and established construction methods for an area. It is not intended to replace the judgement or expertise of professionals engineers, architects or landscape architects, who should be consulted in the design and construction of traditional or permeable interlocking concrete pavements.
Quick Links
Tags: Interlocking concrete pavers, heavy-duty pavers, industrial pavements, UNI Pavers, permeable pavers, PICP, mechanical installation, paver installation, paver specification