Case Studies
The following case studies are available from UNI-GROUP U.S.A. or your local UNI® Manufacturer. If you'd like to order printed versions of the case studies shown, click here to send an e-mail request, or visit our Downloads page for easy download of multiple items. In addition, we've featured a number of case studies produced by our Manufacturers on their local projects. Please check back for new case studies as they become available..
The City of Wilton Manors is very pleased with the performance of the UNI Eco-Stone® permeable concrete pavers.
We use them in all parking and driveway areas where drainage calculations are hard to meet.
Director of Public Services, City of Wilton Manors, FL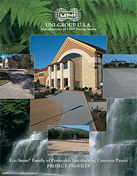 Eco-Stone Family of Permeable Interlocking Concrete Pavers Project Profiles
With millions of square feet of UNI® Permeable Pavers installed across the United States and Canada since 1989, UNI-GROUP U.S.A. manufacturers' projects offer proven performance for all types of applications - residential, commercial, municipal and industrial.
From large-scale projects such as Buckingham Fountain and U.S. Cellular Field in Chicago to private residences, this brochure offers a cross-section of permeable pavement applications - both newly installed and those that have been in use for over 20 years.
Download – 28-pages – 2010-2014 – Regularly updated with new projects
Westmoreland Street, Portland, OR
In November of 2004, a pilot project to install Ecoloc® permeable interlocking concrete pavement (PICP) in the 80-year old Westmoreland neighborhood was undertaken as part of a joint project by the Portland Office of Transportation, Bureau of Environmental Services, and the Portland Water Bureau.
The project will test how well PICP performs on a public residential street and will provide data on durability, drainage capabilities of the Ecoloc pavement, and maintenance requirements.
Download – Two pages
---
Jordan Cove Glen Brook Green Waterford, CT
This project is part of the EPA's Section 319 National Monitoring Program that addresses non-point source pollution. It was the first NMP project in the country to study the impact of residential development on stormwater runoff quantity and quality, as well as management practices used to manage the runoff. The neighborhood utilizes a number of BMP practices including grass swales, vegetated bio-retention areas, roof leader rain gardens, street sweeping, and fertilizer and pesticide management. The project's cul-de-sac, reduced-width street and some of the driveways are paved with permeable UNI Eco-Stone® pavers.

Download – Six pages
http://jordancove.uconn.edu/jordan_cove/photo_gallery/bmps.html#
---
The Village, Bend, OR
Streetscape renovation project featuring UNI-Decor® concrete pavers. The city of Bend, Oregon, experiences some of the most extreme climate changes in the country, with over 350 freeze-thaw cycles per year. This study includes design details and specifications, materials selection, climate data, and maintenance history for the project.
Download – Two pages
---
Rio Vista Water Treatment Plant
Municipal parking lot application with UNI Eco-Stone® permeable interlocking concrete pavers. Design details and product specifications are highlighted with emphasis on water conservation and the environment for a project by the Castaic Lake Water Agency for their new water treatment plant and Water Conservatory Garden and Learning Center.
Download – Two pages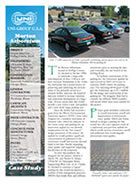 Morton Arboretum, DuPage County, IL
The Morton Arboretum decided in the late 10090s to under take a large-scale redevelopment of their 1700-acre outdoor museum. The facility had received a grant from the Illinois Environmental Protection Agency's Clean Lakes Program for a complete renovation of Meadow Lake, which is adjacent to the visitor center and parking lot. An impervious parking area was deemed inappropriate for the low impact design parameters of the project and it was decided to construct a "green" parking lot that would incorporate a number of best management practices.

Download – Two pages
---
Sterling Sugar Refinery, Franklin, LA
Industrial container storage facility featuring UNI-Anchorlock® concrete pavers. Information includes design details and specifications, and materials selection.
Sterling Sugar wanted a pavement that would hold up well, as previous asphalt and reinforced concrete pavements had been unsatisfactory. The UNI-Anchorlock pavers provided a flexible pavement surface capable of accommodating the poor, weak clay soils at the site, while withstanding industrialized loads from containers.

Download – Two pages
---
Port of Tampa
Industrial port application with UNI-Anchorlock® interlocking concrete pavers. Details include design selection process, facilities description, design loads, materials selection, and mechanized installation information for the cargo staging area at Berth 208 in the Port of Tampa, Florida.
Download – Four pages
---
Mickel Field and Highlands Park
Municipal parking lot renovation with UNI Eco-Stone® permeable concrete pavers. Poor drainage conditions and concern for the environment spurred the City of Wilton Manors, Florida, to use UNI Eco-Stone for their parking lot renovation project to control runoff, and provide a durable surface for vehicular traffic.
Download – Two pages
UNI Manufacturer Case Studies and Project Profiles
Block USA
Permeable Paver Helps City Meet Stormwater Management Goals
Mutual Materials
Puget Sound Build Green Idea Home
Southlake Union Streetcare Maintenance Facility
Westmoreland Permeable Pavement Project
Pavestone Company
Unilock
Northwest Quadrant Environmental Park and Trail System
Carbon Cliff Stormwater Management Vision
American Society of Landscape Architecture Stormwater Case Studies
Kane County Cougars Events Center, IL - UNILOCK CHICAGO
Charles City Permeable Streetscape, IA - UNILOCK CHICAGO
Triangle Parking Lot, Stone Mountain, GA - PAVESTONE
St. Augustine Catholic Church, Brighton, CO - PAVESTONE
Morton Arboretum, Lisle, IL - UNILOCK CHICAGO
Iowa Pilot Street - UNILOCK CHICAGO
Other Case Studies Featuring UNI Pavers
Westmoreland Street, City of Portland, OR - MUTUAL MATERIALS