UNI Permeable Paver Gallery
UNI-GROUP U.S.A. was the first to introduce permeable interlocking concrete pavers (PICP) to North America in 1989 with our revolutionary UNI Eco-Stone® paver. As leaders in the industry, we recognized the possibilities and environmental benefits of being able to infiltrate water through the pavement surface into the ground below to help manage stormwater on site. Since, then we've added several styles of permeable pavers to meet the increasing demand for residential, commercial, municipal, institutional, and even industrial pavements. Designers may choose from the original Eco-Stone, Eco-Priora, Eco-Optiloc or Ecoloc permeable pavers.
For more information on UNI projects visit our Case Studies and Articles pages, as well as our Downloads page, where you find over 175 downloadable items. We are constantly updating our National Permeable Paver Project List as UNI pavers are installed in more than half the permeable projects across North America each year. For detailed project information download our Eco-Stone Family of Permeable Paver Project Profiles.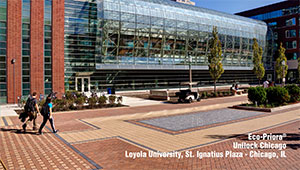 UNI Project Slide Show - This slide show features a number of UNI permeable paver projects from around the nation. It is in large format 16:9 suitable for larger monitor viewing. It is a large size file, so it may take a few minutes to download.
Contact the UNI Manufacturer nearest you for an estimate on your next paving project. They will be happy to schedule a meeting or a seminar or presentation for your company or municipality and provide design and technical assistance. Some of the projects shown in our gallery may feature UNI® Permeable Pavers with specialty surface finishes or textures. Some pavers styles may not be available in all areas of North America. Please consult with your local manufacturer for product availability.
Our Design/Installation pages features software, presentations and videos, design guides, manuals, and product literature, articles and case studies, technical and specification guidance, installation and cross-section details and more. Or click on the Quick Links below for fast access to items of interest. Our Resources section offers the latest industry news, as well as information and references on stormwater, low impact development, sustainable development, and environmental and stormwater regulations and objectives at the federal, state and municipal level. From the EPA to Green Infrastructure Rating Systems to Low Impact Development, we've got it covered.
Have a question you can't find an answer to on our website or are you looking for a particular type of project application photo? Please give us a call at 1-800-872-1864 or send us an e-mail. We'll do our best to answer any questions you may have.
Quick Links
Tags: Permeable pavers, pervious pavement, porous pavement, sustainability, stormwater management, green infrastructure, PICP, parking lots, streetscapes, UNI Eco-Stone, Eco-Priora, Eco-Optiloc, Ecoloc, UNI permeable pavers