Green News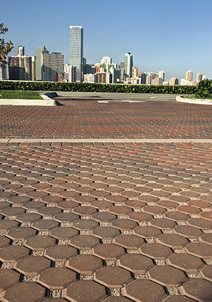 We will feature news relating to the permeable pavement, stormwater, green infrastructure and building, EPA updates, and much more on this page. For general paver industry, engineering and design industry news visit our Industry News page. For news on UNI® projects and products, UNI research and articles, and UNI Manufacturer news, please visit our UNI News page.
Are you an agency, organization, educational institution, municipality or state government that may have news for engineers, architects, landscape architects or government officials regarding stormwater, green infrastructure, educational webinars, or conferences? Let us know via e-mail and we'll post it in this section on your behalf.
Quick Links
Tags: Interlocking concrete pavers, heavy-duty pavers, industrial pavements, municipal pavements, UNI Pavers, permeable pavers, PICP, concrete paver news, UNI News
American Society of Landscape Architects Announce New Online Guide to Green Infrastructure
The American Society of Landscape Architects new online guide explains the many advantages of green infrastructure that provide proven benefits for communities. The guide notes that green infrastructure occurs at all scales, and while it's often associated with green stormwater management systems, there is much more.

The guide includes sections on park systems and urban forests, wetlands, wildlife corridors and spaces, cities, green streets and sustainable transportation. It envisions green infrastructure as a "centerpiece of smart regional and metropolitan planning, ensuring communities have a livable environment, with clean air and water, for generations to come." At the site-scale, smart communities are encouraged to use green infrastructure "for transportation systems (green streets), and green roofs, which can can bring the benefits of nature to the built environment."
The site includes hundreds of free research studies, news articles, and case studies, organized by green infrastructure scale, from the smallest to the broadest.
Learn more: http://www.asla.org/greeninfrastructure.aspx
Check out ASLA Sustainable Sites Initiative projects featuring UNI pavers.
---
EPA UPDATES SWMM
The U.S. EPA SWMM (Stormwater Management Model) Program is a free, dynamic hydrology-hydraulic-water quality simulation model. It is used for single event or long-term (continuous) simulation of runoff quantity and quality from primarily urban areas. The runoff component operates on a collection of sub-catchment areas that receive precipitation and generate runoff and pollutant loads. It is in use around the world.
As of May 2014, SWMM Version 5.1.006 has recently been extended to model the hydrologic performance of specific types of low impact development (LID) controls. The LID controls that the user can choose include the following seven green infrastructure practices:
Permeable pavement
Rain gardens
Green roofs
Street planters
Rain barrels
Infiltration trenches
Vegetative swales
The updated model allows engineers and planners to accurately represent any combination of LID controls within a study area to determine their effectiveness in managing stormwater and combined sewer overflows.
For more information and to download the program:
http://www.epa.gov/nrmrl/wswrd/wq/models/swmm/#Downloads
---
Institute for Sustainable Infrastructure's Envision Rating System
By Rebecca Morris and Dave Briglio - Stormwater Magazine
A Rating System for the Sustainability of Infrastructure: Envision
"The purpose of Envision is to initiate a system change . . . to transform the way infrastructure is designed, built, and operated." –William Bertera, Executive Director, the Institute for Sustainable Infrastructure, 2012

The Institute for Sustainable Infrastructure (ISI) was established in 2010 as a not-for-profit organization by the American Council of Engineering Companies, American Public Works Association, and American Society of Civil Engineering. ISI was founded to create a consistent framework to evaluate the sustainability of civil infrastructure as well as the extent to which infrastructure contributes to the condition of sustainability. ISI collaborated with the Zofnass Program for Sustainable Infrastructure at Harvard University's School of Design. This partnership ultimately led to the development and release of the Envision Rating System in 2012—a system of categories, subcategories, and credits designed to quantify the sustainability of an infrastructure project. The intent of the Envision Rating System process is to assist the project owner in raising the bar or optimizing the sustainability of a project during the planning and preliminary design phases by offering metrics to which the project owner can benchmark.
The initial release of the Envision Rating System addressed the Design and Planning and Construction stages. Subsequent phase ratings are scheduled to follow for the Operations and Maintenance and the Deconstruction and Decommissioning phases of a project. Read more.
EPA Funding Supports Urban Waterways
The EPA announced on July 17 that it is awarding a total of $2.1 million to 37 organizations in 17 states and Puerto Rico to help protect and restore urban waters, improve water quality, and support community revitalization. EPA is awarding grants ranging from $40,000 to $60,000 for projects taking place in areas that align with the 18 designated Urban Waters Federal Partnership locations. All funded projects work to advance environmental justice in their communities and focus on one of the following three categories: community greening and green infrastructure, communities and water quality data, and integration of water quality and community development in planning. Read more here.
The Urban Waters Federal Partnership established seven Urban Waters Pilot locations in June of 2011, with the goal of working closely with local partners to restore urban waterways. Cleaning up and restoring local water resources is essential to protecting Americans' health and improving their overall quality of life. Revitalizing urban waterways will also reconnect citizens to open spaces, and will have a positive economic impact on local businesses, tourism and property values, as well as spur private investment and job creation in these communities.
Progress in the original 7 urban waters locations is detailed in the Partnership in Action Report.
---
Water Resources Bill Signed Into Law
By Bruce Albert, NOLA.com
WASHINGTON - Surrounded by Democratic and Republican lawmakers, President Barack Obama signed a $12.3 billion water resources bill into law -- representing rare bipartisan consensus in a contentious election-year congressional session. The president praised the Republican and Democratic lawmakers who negotiated the final bill.
"You had bipartisan negotiators -- Senator Barbara Boxer, Senator Dave Vitter, Congressman (Bill) Shuster and Congressman (Nick) Rahall -- they set aside politics, they focused on what was important for the country and what was important for their communities, and as a consequence we have a piece of legislation that's really going to make a good difference," Obama said.
The bill passed the Senate 91-7 after passing the House 412-4. During the signing ceremony, the president urged lawmakers to move quickly on legislation to insure continued transportation funding that is key, he said, to maintaining important infrastructure and jobs creation. Funding from the Highway Trust Fund is expected to run out this summer, and so far there's been no agreement between the House Republican majority and Senate to keep the projects moving.
---
The Sustainable Sites Rating System
By Margaret Buranen - Stormwater Magazine

Developments and projects that involve landscaping have a new rating system by which they can merit credits for sustainable measures. The revised version of the Sustainable Sites Initiative (SSI) rating system—known as SITES v2—was released in fall 2013. The new rating system is a joint endeavor of the American Society of Landscape Architects (ASLA), the US Botanic Garden, and the Lady Bird Johnson Wildflower Center at the University of Texas. It is the culmination of several years of work.
Since June 2010, as part of the Sustainable Sites Initiative, pilot projects have been testing the 2009 rating system created by leading sustainability experts, scientists, and design professionals. The diverse projects represent various types, sizes, and locations as well as budgets.  The 2009 rating system includes 15 prerequisites and 51 additional, flexible credits to choose from that add up to 250 points. The credits address areas such as soil restoration, use of recycled materials, and land maintenance approaches. Certification levels include one through four stars, which are awarded to projects that achieve 40, 50, 60, or 80% of the 250 points. 
Speaking before the official release of version 2 of the SITES rating system, Elizabeth Guthrie, manager of ASLA's Professional Practices Program and ASLA liaison to SSI, says that the new version would "streamline the certification process yet still capture the rigor of stormwater management. It will include the management of precipitation onsite as a baseline requisite and encourage projects to go beyond for additional points." Read more.