UNI News
We will update this page with news about UNI® products and services, UNI Manufacturer projects and news, new articles and profiles, research and more. If you'd like to receive our quarterly UNI NEWS e-mail, sign up on our Home page or simply send us an e-mail request. You can also follow us on Facebook and LinkedIn for news updates as well.
Quick Links
Tags: Interlocking concrete pavers, heavy-duty pavers, industrial pavements, municipal pavements, UNI Pavers, permeable pavers, PICP, concrete paver news, UNI News

A Permeable Package
This story by Roberta Baxter appears in the October 2014 issue of Stormwater Magazine. It features projects at Peterson Airforce Base in Colorado Springs, CO, utilizing Eco-Stone permeable interlocking concrete pavers for streets and parking areas.
Produced by Pavestone Company in Colorado Springs, the pavers were an important part of securing LEED certification for the project. One of the base's streets was facing a problem common in urban areas - storm sewers were at capacity and with warehouses flanking the street that drained onto the street during heavy rainstorms the area experienced flooding. Due to space constraints, a detention pond was not feasible and a complete storm sewer replacement was too expensive. The Eco-Stone permeable pavers were a less costly and effective solution.
Fred Brooks, design engineer for the project notes that they are using the Peterson Airforce Base project as a test case and to date the pavers are performing well under harsh winter conditions.
The cover shot shown above is another Pavestone Eco-Priora project - the Colorado School of Mines - read about that story below.
For more information on this project read the full Stormwater Magazine Project Profile.
Contact at Pavestone Colorado: Mike Midyett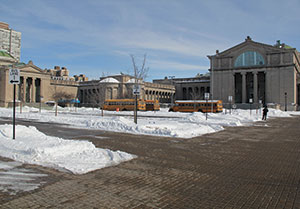 Museum of Science and Industry
Last fall, the Chicago's Museum of Science and Industry (MSI) decided to reconstruct and expand its west parking lot, located off South Cornell Avenue. The largest science center in the Western hemisphere, MSI opened in 1933 and has had more than 180 million visitors from around the world. It is housed in the former Palace of Fine Arts from the 1893 World's Columbian Exposition and is a National Historic Landmark. As federal funding was used for the design and construction of the project, it had to be administered and approved by the Chicago Department of Transportation (CDOT) and Illinois Department of Transportation (IDOT) Bureau of Local Roads to ensure it would meet all applicable federal, state, and local requirements.
The Eco-Optiloc and Eco-Priora permeable concrete pavers and Optiloc traditional concrete pavers used in the project were supplied by UNI-GROUP USA manufacturer Unilock Chicago of Aurora, IL. Unilock's commercial product representatives Brad Swanson and Auggie Rodriguez worked with Stanley Consultants on the engineering aspects of the project and coordinated
the paver styles, fi nishes, and color selection with Carol Yetken and Karen Heller of CYLA Design Associates and representatives from the museum.
For more information on this project read the full Stormwater Magazine Project Profile.
Contact at Unilock Chicago: Brad Swanson

Colorado School of Mines
When constructing Brown Hall, a new addition designed to house the engineering and mining engineering departments at the Colorado School of Mines in Golden, CO, the school wanted to create a beautiful, and yet functional pedestrian permeable pavement capable of supporting emergency and service vehicle loading when redesigning the old asphalt streets at the center of the campus. Designers selected Eco-Priora permeable pavers for the project. UNI Manufacturer Pavestone LLC supplied over 35,000 square feet of pavers for the project and worked closely with the designer Matthew Evans of Lime Green Design in Denver and Colorado School of Mining facilities manager Bob Slavik to help ensure project parameters were met, for not only the stormwater aspects of the project, but also for the structural loading requirements of the pavement.
Originally a LEED® Silver Certification was the goal of designers, however, the inclusion of the Eco-Priora permeable pavement helped Brown Hall achieve Gold Certification. "The paving system helped obtain the Heat Island Effect and Stormwater credits. Ideally the selected pavement system would also contribute to the LEED Regional Materials and Content credits," noted Evans. The project also was the winner of an Interlocking Concrete Pavement Institute HNA Hardscape Award in the Commercial/Industrial category.
For more information on this project read the full Stormwater Magazine Project Profile.
Contact at Pavestone Colorado: Mike Midyett
F. von Langsdorff Licensing Celebrates 40 Years
F. von Langsdorff Bauverfahren GmbH was founded in Germany by veteran engineer Fritz von Langsdorff in 1964 in order to license a new interlocking concrete paver shape - the original UNI-Stone®. Little did he know that in subsequent decades it would become the world's most successful concrete paver shape. The use of segmental paving has a long history and dates back more than 5,000 years to the Minoans on the island of Crete, but it was not until the advent of precast concrete pavers that their use became commonplace. These modern pavers, with their tight dimensional tolerances and increased structural strength, made it possible to offer designers alternatives in terms of better performance, pleasing aesthetics and lower costs. The invention of the shaped interlocking concrete paver in Germany, especially the UNI Product Line, had tremendous success and in the 1960s, a period of rapid growth commenced within the German UNI Licensing Group.
Soon after their initial introduction in Germany, UNI Pavers were licensed in other countries. These unique pavers were introduced to North America in 1973 and the Canadian office, known as F. von Langsdorff Licensing Limited was established in Toronto to better serve the needs of the North American Licensee. In 1982, UNI-GROUP U.S.A., the nation's first interlocking concrete paver organization was founded. It is now headed by Harald von Langsdorff, the son of Fritz von Langsdorff.
In 1989, F. von Langsdorff Licensing brought the first permeable interlocking concrete paver (PICP) to North America with the introduction of UNI Eco-Stone®. Since then, Harald has expanded the permeable product line with the introduction of several other patented products - Ecoloc®, Eco-Optiloc® and Eco-Priora®. For more than 25 years, the Eco-Stone Family of Permeable Pavers have been the choice of engineers and other design professionals for residential, commercial and municipal applications across the country. Congratulations to Harald and F. von Langsdorff Licensing on serving the world-wide interlocking concrete paver industry for 40 years!
Licensor: Harald von Langsdorff
President, F. von Langsdorff Licensing Limited and Technical Director, UNI-GROUP U.S.A.
East Village in Calgary, Alberta
East Village, a Brownfield re-development project in Calgary, Alberta, is one of the single largest Brownfield re-development projects to be undertaken in western Canada. Recognizing the unique nature of the project, a different approach to road construction was undertaken by the developer/owner. Unilock's Optiloc concrete pavers were incorporated into the construction of most roadways and sidewalks throughout the redevelopment area. Concrete paver roadway construction started in 2007 and the final square foot of pavers was laid on Friday October 25, 2013, at the corner of 7th Avenue SE and the newly-built Riverfront Lane South. The project encompasses over 376,700 square feet of pavers. Through this time period the Optiloc paver roadways have performed admirably. "The pavers have stood up to all traffic loading that they have been exposed to thus far and, in combination with the site specific road structure that has been designed to accommodate these concrete pavers, the roadways have withstood the multitude of freeze-thaw cycles common to a Calgary winter season with no maintenance requirements," said Greg Bodnarchuk, P.Eng, Division Manager of exp, engineers for the project.
For more information on this project: East Village Brownfield Redevelopment Project
Contact at Unilock: Dave Laurie