Industry News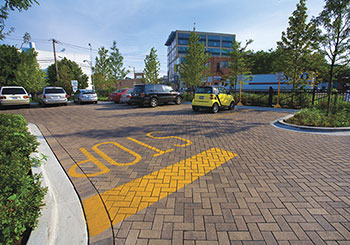 We will feature news relating to the pavement, engineering and design industry on this page. For news on UNI® projects and products, UNI research and articles, and UNI Manufacturer news, please visit our UNI News page. We also feature a Green News page as well with the latest news on stormwater, green infrastructure and building, EPA updates, and much more.
Quick Links
Tags: Interlocking concrete pavers, heavy-duty pavers, industrial pavements, municipal pavements, UNI Pavers, permeable pavers, PICP, concrete paver news, UNI News
ASCE to Release Committee Report on Permeable Pavements
After more than four years of work, a design guidance manual on Permeable Pavements is expected to be released in December by the American Society of Civil Engineer's Environment and Water Resources Institute. The guide is an extensive update on landscape architect Bruce Ferguson's 2005 groundbreaking book, Porous Pavements. Previously the ASCE planned for the guide to only be available in digital format, which could be purchased in its entirety or by chapter. However, after reviewing the final drafts, ASCE Publishing decided to produce a print version as well. The report details all types of permeable, pervious and porous pavements and includes structural and hydrological design considerations and guidance, modeling practices, design and construction checklists, and maintenance. The report represents hundreds of hours of discussion and in-depth reviews of industry research by a committee of civil engineers, city and state regulators, the U.S. EPA and pavement industry representatives. The undertaking has also led to the creation of a c comprehensive library of technical papers. UNI-GROUP U.S.A.'s technical director, Harald von Langsdorff was a contributor on this project.
We will update the release date for this important new industry reference guide as soon as the information becomes available.
New ASTM Test for Permeable Interlocking Concrete Pavers
By ASTM International - The ASTM International recently released C1781 Standard Test Method for Surface Infiltration Rate of Permeable Unit Pavement Systems. This test method is specifically designed for assessing the surface infiltration rate of new and in-service permeable interlocking concrete pavements and permeable clay brick pavements. The test method involves timing a slow pour of a known weight of water into a 12 inch diameter pipe fastened to the permeable pavement surface with plumber's putty. The infiltration rate is easily calculated using a formula in the test method. The test method also provides guidance on how to locate the 12 in. diameter pipe on the unit paving surface to measure infiltration that represents the pattern on the larger pavement area. The test uses similar equipment and methods in ASTM C1701 Standard Test Method for Infiltration Rate of in Place Pervious Concrete. The similarities between C1701 and C1781 make the test results comparable.

"We are seeing more provincial, state and local permeable pavement specifications require surface infiltration tests to accept new permeable pavements and to evaluate their in-service infiltration for determining surface cleaning," says Craig Walloch, chair of ASTM Subcommittee C15.04 on Research who helped develop the standard. "Now they have a method with specific guidance for testing unit paving with results that can be compared to that from pervious concrete and porous asphalt." Mr. Walloch further noted that existing guidelines published by stormwater agencies have used C1701 to test surface infiltration of permeable unit paving. While the results from that test method applied to permeable unit pavement are useful, C1781 provides clear guidance on executing the test on these pavements.

To purchase and download C1781 from ASTM, visit www.astm.org/Standards/C1781.htm. The standard retails for $42 and ASTM members receive a 10% discount.
Transportation Funding Bill Deadline Approaching.
By The Hill - Lawmakers are searching for at least $16 billion to prevent a bankruptcy in the Department of Transportation's Highway Trust Fund that could occur as early as August without congressional action. Sen. Ron Wyden (D-Ore.) said Thursday that everything was on the table as the deadline quickly approaches.
"We're pulling out all the stops to find a funding solution to keep the Highway Trust Fund solvent, and [Wednesday's] bipartisan members meeting to discuss options was a critical step forward," Wyden said in a statement. "We had a productive discussion regarding both immediate funding options and longer term solutions to support our infrastructure needs," Wyden continued. "I've now asked committee members to come back by early next week with their preferences, so that we can come to a bipartisan agreement by the end of June. As I said in the committee hearing, failure is not an option."

The Senate Environment and Public Works Committee has approved a six-year, $265 billion bill transportation bill. But the infrastructure panel has left it up to Wyden's Finance Committee to come up with a way to pay for it. The traditional funding source for transportation projects is the federal gas tax, which is currently priced at 18.4 cents per gallon. The gas tax has not been increased since 1993 however, and the federal government's authorization to collect it is set to expire in September without a new transportation bill.

Read more: Transportation Bill Funding